Many of us wonder what to bring on a holiday when we have the opportunity to go there by car. The answer to this question is not as simple as it seems. So, how should we pack for a holiday to make our ride pleasant and hassle-free?
How to pack for a holiday?
What should we take with us for a trip? You definitely shouldn't pack every single thing that you can put your hands on. Remember that it will be an extra load for your car. When packing your suitcase, you may use a pre-prepared checklist. The essentials might be different for everyone, e.g., there is a difference between what we pack for a holiday in the mountains and at the seaside. We don't always need a bathing suit, just like we don't always need a pair of skis.
How to pack a suitcase for a holiday?
Some tried and tested hacks, such as rolling your clothes, may come in handy. This way, we can avoid our clothes getting creased. We can stuff our socks inside the shoes and wear some of the clothes during the ride so that they don't take up more luggage space. The sport equipment that we often bring with us can be mounted to a special rack on the roof or at the back of our car.
How should we pack for a holiday abroad?
What should we pack for a holiday overseas? Remember that you still need your passport when going to certain countries. Make sure that you have put it with your most important documents and that it is still valid. We should also familiarise ourselves with legal regulations regarding the preparation of our car (what should and should not be put inside).
What should we take with us for a trip? You should definitely put a dictionary with words and expressions of the local language, as well as a map in your glove box. These two things will be useful in case technology fails you.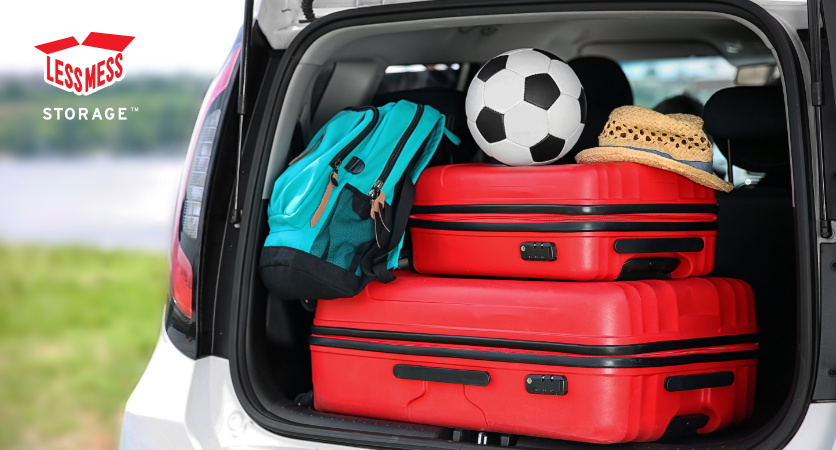 What should we pack going on a holiday with a child?
Whether we go on a holiday abroad or within our own country, the anxiety regarding what we should pack going on a holiday with children may be quite overwhelming. Even if our little one is not a tiny baby anymore, packing their luggage is still our job. However, it is a good idea to ask the child what they would like to bring with them.
But what should we pack going on a holiday with a toddler? In this case, we should first of all consider preparing a stock of nappies, wet wipes, hydrating lotions, bottles and dummies. These things are exceptionally important for our little ones and they might make a parent's ride much more peaceful.
What to bring on a holiday? Essentials checklist
What should we pack for a trip? Most of the checklists will definitely include documents, which are a must not only in our own country, but also abroad. But we should also remember about other important objects that might be difficult to buy in case we forget to bring them. What should we pack for a trip? You may find some hints in the checklist below. We have put together a list of several essentials. Without them your holiday may turn out a bit difficult.
Documents – from your ID to driving licence or passport
First aid kit – necessary for emergency situations – it should contain the most important medicines
Clothes and underwear
Extra shoes – in case your regular shoes get broken
Necessary electronics and chargers – they are definitely a must if you want to stay connected.
Leave your keys with your neighbour and travel without a single worry
You're going on a long trip but you don't want your plants to die? Or maybe you have a pet that, for one reason or another, cannot accompany you on your trip and you would like to have someone feed and walk them or play with them? There is one common denominator for both of these situations – the necessity to leave your house keys with someone.
As much as leaving them with a family member – someone that you trust – is not a big issue, trusting your house keys with someone that you haven't known for a long time is a bit risky. It is possible that you might not want to bother your family or close friends with any extra responsibilities and you decide to ask someone else for a favour instead – your neighbour. If you don't know them very well, a good idea is to transfer your most valuable possessions to a well-secured place. Self storage services provided by Less Mess Storage seem to be a great choice, convenient to boot. They offer storage spaces with optimum storing conditions, which means that you can rest assured that your belongings will not get damaged.
Another great advantage is a flexible contract – the storage rooms can be rented for a week, a month or an undetermined period with a 30-day notice. You will easily find the right type of contract for the duration of your trip. The rental price of self storage units depends on their location, size, rental period and the kind of storage space.